The Ball State University Board of Trustees approved the design and construction of a $15 million indoor practice facility for athletics. The facility is planned to open in Summer 2021.
The 84,000-square-foot building will have a field measuring 360 by 160 feet and a ceiling height of 65 feet — meeting the needs of football, baseball, softball, and soccer programs during inclement weather. The proposed facility would be built southeast of the Fisher Football Training Complex.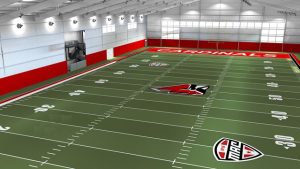 In addition to providing practice space for athletic teams during unfavorable weather, the facility will also include an additional multi-use venue for other activities, a practice area for the Pride of Mid-America Marching Band, academic programming, student recreation, the Ball State Foundation, and alumni and community events.
As the final MAC school to add an indoor practice field, the shared space will elevate the competitive experience of student-athletes and allow them to practice year-round, said Director of Athletics Beth Goetz.
"Competing as a Division I athlete at Ball State plays a crucial role in preparing student-athletes to be future leaders in the community and in their chosen fields," she said. "We are proud to support their dreams."
Ms. Goetz also announced that more than $13 million has already been committed to the facility, and fundraising for the remaining costs is underway.
With approval of the project, the University will now seek necessary state approvals to proceed, said Bernie Hannon, vice president for Business Affairs and treasurer.